Care and Grooming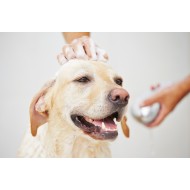 Lady Remington Care, Grooming products are made with pets and pet owners in mind. We take steps to make sure products are offered for your pets well being and provide support for;
Training
Taking proper steps to train your pet can help your family and pet live in harmony within your home.
Identification
Taking the proper measures to ensure that you can identify your pet is important in the event that they run away or get lost. Microchips are one way to increase the chances of pet and owners being reunited along with simple measures such as ID tags and collars.
Safety
Take the proper steps to provide a safe home for your pet by following a few easy safety tips. There are a variety of situations and products that may be safe for humans but may create a critical health condition for your pet. Make sure you take the proper steps to keep your pet and the environment safe.
Health
Take the proper steps to ensure that your pet is in good health with routine veterinary appointments and daily care. Pet owners should familiarize themselves with some common health problems your pets may encounter and precautions on how to treat and prevent these problems.
Remember a healthy pet is a happy pet. You can find a list of the basic necessities for your pet for a healthier happier living experience:
Premium-quality dog food and treats
Food dish
Water bowl
Toys, toys and more toys, including safe chew toys
Brush & comb for grooming, including flea comb
Appropriate sized collar with license and ID tag
Appropriate sized leash
Carrier, and or Training crate
Dog bed or box with blanket or towel
Dog grooming, and toothbrush
These simple pet essentials are a start to helping your pet grow through ages and stages with the appropriate care.
Showing 1 to 3 of 3 (1 Pages)